About
nQ Medical was founded in 2016, out of MIT, as a computational biotechnology company with a Digital Biomarker Discovery Platform that phenotypes neurological diseases through passive, AI-aided analysis of personal device interactions. Its biomarkers are used for early detection (years earlier than gold standard assessment tools), uses RWD to track disease progression at a highly granular level, and because it tracks disease progression, it can measure the impact of therapy (Rx, device or CBT).
nQ believes that cognition and motor challenges have an impact on patients' daily activities, especially at work, affecting their quality of life and associated healthcare costs. Its digital biomarker platform enables multiple sensors, devices, and telehealth solutions to deploy. They seek to partner with health systems looking to address new therapeutic areas, such as neurology via investment in RPM to expand virtual care capabilities particularly in rural and underserved geographies.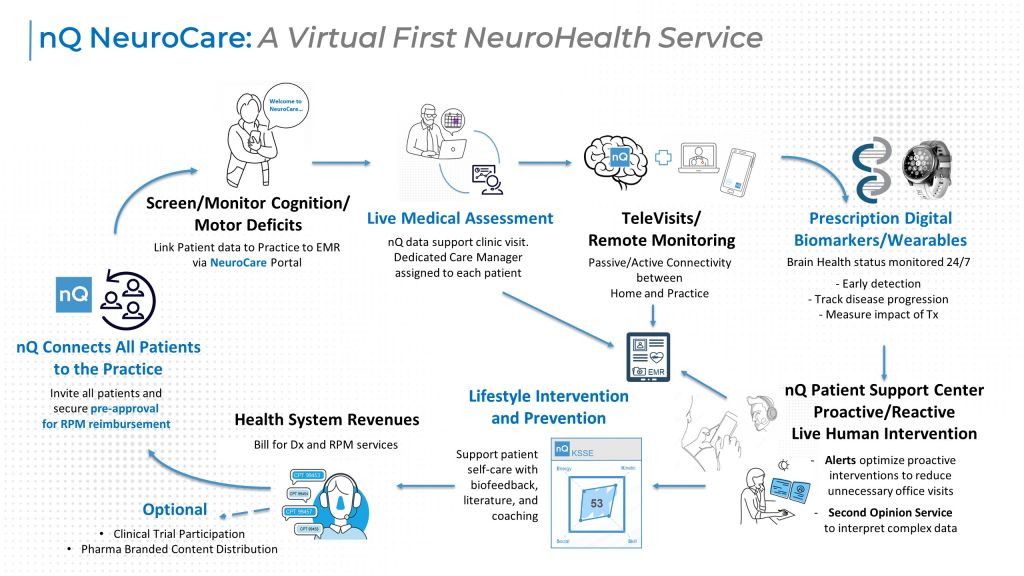 nQ's FDA Breakthrough designated digital biomarker platform has been developed for disorders of cognition and motor in early and newly diagnosed/untreated stages of neurology diseases.  In the prodromal stages of neurodegenerative diseases, digital biomarkers can detect subclinical symptoms known to predict phenoconversion better than biochemical markers which often predict disease risk but not timing.  In addition to the obvious conditions of Alzheimer's/MCI, Parkinson's, ALS, Multiple Sclerosis, et al, it has focused on developing digital biomarkers for cross-disorder neurological conditions such as Long COVID, CHEMO Brain, Post-Surgical Brain Fog, Spinal Muscular Atrophy, Stroke, Fatigue, mTBI, and Car-T Neurotoxity.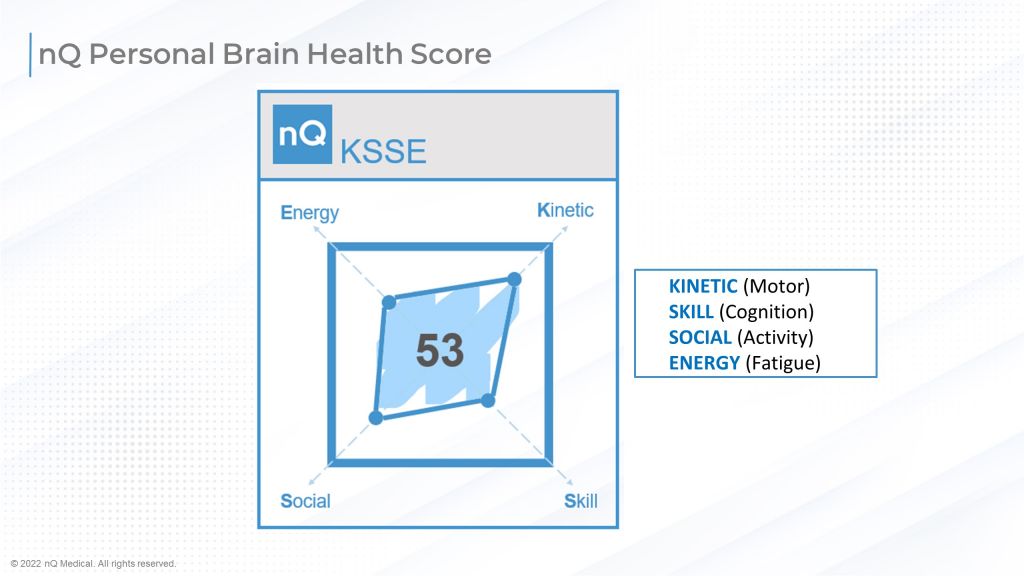 As it has engaged with healthcare stakeholders, they documented that the business model for digital medicine has evolved, inspiring a nQ service model, called NeuroCare.  The reception from health systems has been both enlightening and exciting as NeuroCare offers health systems not only cutting-edge digital neurology services, but relieves staffing burdens and extends brain healthcare beyond the four walls of the hospital, accomplishing three important objectives:

Provide for the delivery of neurology care on an on-going basis and reaching rural and underserved geographies where the closest neurologist may be hundreds of miles away;  
Allows for the health system/neurology practices to direct routine and non-urgent neurology care to nQ's allied health professional Patient Support Center, leaving the practices to concentrate on the more critical, and more lucrative, assessment and care of at-risk patients.  
Provides a new source of revenue for the provider.
Team