About
Launched in 2015, SWORD Health's musculoskeletal (MSK) conditions solution is already used by thousands of patients in the U.S., Europe, and Australia. SWORD partners with health plans and employers, and can be used for chronic pain, acute pain, and post-surgical pain.
It is a virtual care platform for physical therapy that has body sensors for objective data measurement and collection.
How It Works
A patient is matched with a licensed physical therapist and provided with a SWORD tablet and sensors for motion capture and tracking. The sensors are on adjustable straps that can be wrapped around a patient's arms, legs, upper, and lower back, fitting onto whatever body parts should be tracked. The physical therapist comes up with a personalized exercise plan from over 100 different at-home exercises.
While the patient is actively doing exercises, an AI-driven Digital Therapist gives pointers in real-time. A human physical therapist reviews the data and sends suggestions, education, and encouragement over text message, interspersed with the occasional scheduled live video visit. The assigned therapist also evolves the personalized plan 3 times a week based on the objective data from the sensors combined with the individual's abilities.
SWORD Health is also a great example of health coaching via text message. Text messages are being used more frequently in healthcare, and with good reason. A text message fits more seamlessly into someone's daily life than other communication methods like phone calls or even emails.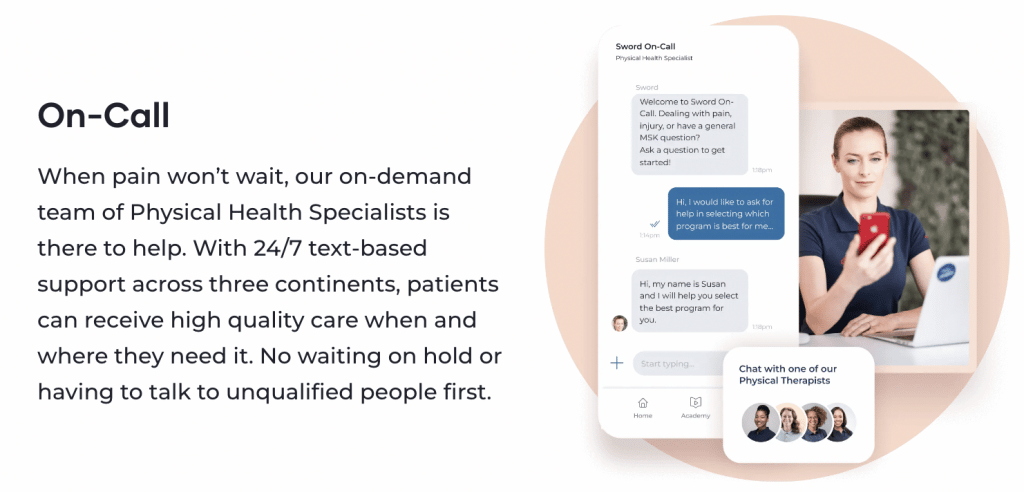 What They Treat
The cover the same conditions and MSK issues in-person physical therapy covers:

Neck, Shoulder, Elbow, Lower Back, Hip, Wrist, Hand, Knee, Ankle, Back and Joint Conditions, Pelvic Disorders, Bowel Disorders, Bladder Disorders, Sexual Health, Pregnancy, Postpartum, Menopause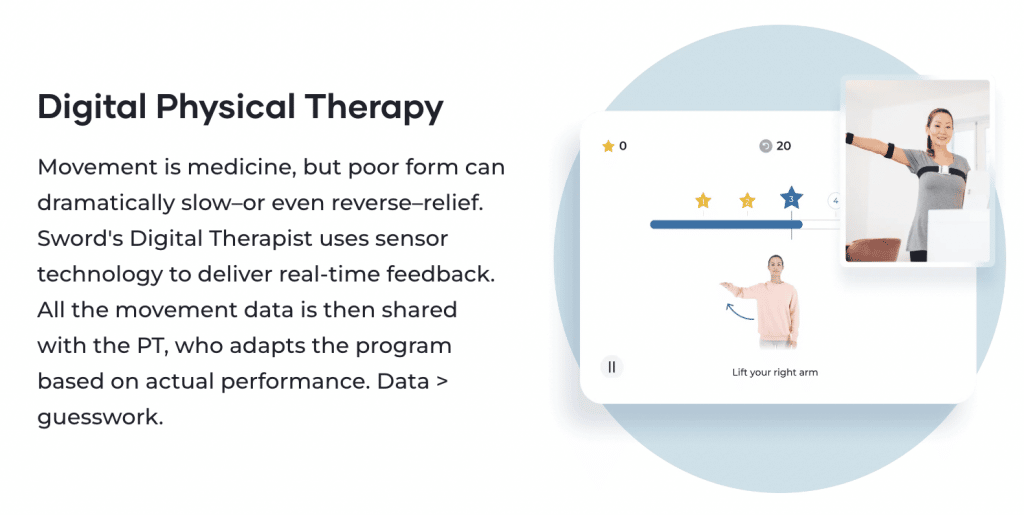 Team